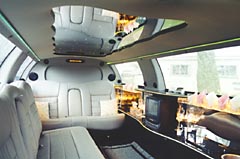 All of our luxury limousines come fully loaded with CD, VCR and DVD players, Stereo Systems featuring Dolby DTS Digital Surround Sound, Play Station II, a Laser Light Show, a Fog machine, overhead passenger controls, wrap-around leather couch seating, mood lighting and colored fiber optic lighting.
1964 Austin Princess
We are now booking this "Baby Rolls Royce". Feel like a king or a queen in this all original British limousine, with right hand drive, divider window, and jump seats.